Tuberous begonia is toxic for dogs
Begonia tuberhybrida

The begonia (tuberous begonia) is a perennial herbaceous plant that is popular as a garden and balcony plant as well as a houseplant. It belongs to the Begoniaceae family and there are many varieties in a wide range of sizes and colours. The leaves are reddish-green, the remarkable flowers usually pink or red.
Begonias are popular in flower pots both indoors and in the garden or in flower beds. All parts of the begonia are poisonous to dogs, especially the roots or the water in the pot.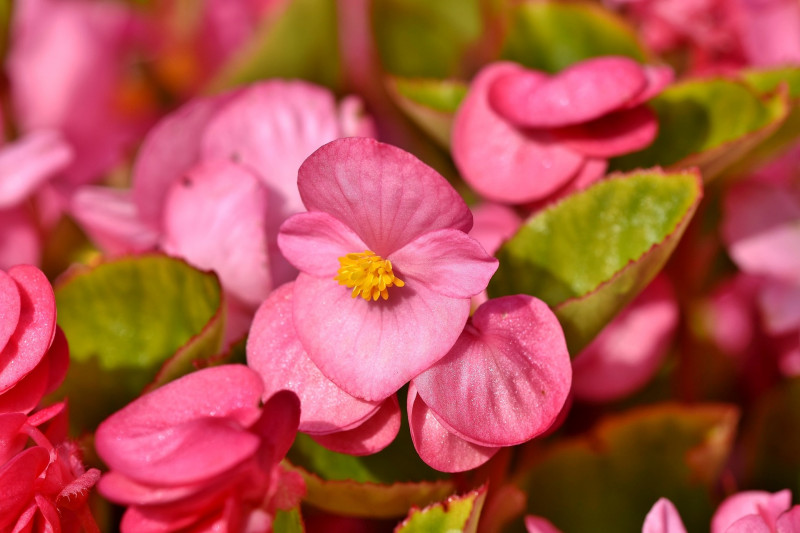 What should I do if my dog ate Tuberous begonia?
How toxic is Tuberous begonia?
| | |
| --- | --- |
| Toxicity: | (toxic) |
| Toxic parts: | All parts of the begonia are poisonous, especially the roots and the water in the pot. |
| Toxic time: | winter, spring, summer, autumn |
| Antidote: | Unknown |
POISONINGS REQUIRE QUICK REACTION:
If your dog shows symptoms of poisoning, it is always an emergency! Time is critical for your dog's life. You should immediately call your vet or the animal emergency services and make sure that a vet is on site and then go there immediately. For the treatment, it helps the vet a lot to know what your dog has ingested.
Occurrence Tuberous begonia
| | |
| --- | --- |
| Plant species: | flower |
| Occurrence: | Gardens, Bucket, Parks, Indoor |
| Areas: | Europe |
| Flowering time: | spring, summer, autumn |
| Fruit ripening: | - |
Symptoms
Symptoms of begonia poisoning in dogs may include:
increased salivation
mucosal swelling
nausea
vomiting
abdominal pain
diarrhoea
In the event of severe poisoning, the following additional symptoms may occur:
tachycardia
cardiac arrhythmia
increased or decreased urine output
Treatment
Whereas in cases of acute poisoning, it is often advisable to try to remove the poison from the body, this is not recommended in the case of begonia, as the poison irritates the mucous membranes and this can lead to respiratory distress. In the case of begonia poisoning, the vet will cool and treat irritated areas, serve drinks or food containing calcium, administer painkillers and monitor the heart and kidney function.
Further poisonous plants from A to Z