Dog Health
The health of our dogs depends largely on us. You can look after your dog's health with a balanced and natural diet tailored to your dog's needs. Regular grooming with natural products not only helps to keep your dog looking beautiful, but can also prevent disease or enable early detection. In order to apply the most effective treatment, it is important to detect diseases or poisonings in your dog early enough. The DigiDogs team will help you take care of your dog's health.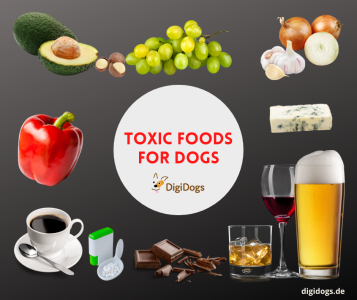 Some foods that are healthy, tasty and digestible for humans are unfortunately harmful or even very toxic for our dogs. The foods that are toxic for dogs should be known by all family members. With PDF to print out and hang on the fridge!

You should know these foods that are toxic to dogs
Unfortunately, there are some foods that are healthy or at least safe for us, but can be downright dangerous for our dogs. These should be kept out of your dog's reach. 
Healthy vegetables for every day
These vegetables are very healthy for dogs and can be included in the daily vegetable portion of the food ration. Here you can find out why these vegetables are so healthy, in what quantities you can feed them and how the vegetables should be prepared. 
Promote, maintain and restore canine health
Anyone who has ever had a sick dog knows how much we suffer with him. There is nothing we want more than for him to get well again and to share life with us in good health for as long as possible. We can do a lot to make that happen.
Your dog is what he eats: Nutrition has a very big influence on the health of our dogs. But every dog has individual needs and preferences. However, the basis for a healthy diet is always natural and high-quality ingredients in the right quantity and composition for your dog. This is the only way to provide your dog with the nutrients he needs so that he is full of energy and can keep his body healthy right down to the cells.


How much care your dog needs depends on many factors. For example, the breed, the age and, of course, the state of health. Here you can find out what you should regularly look out for in your dog and how to care for him naturally. Grooming is not only about the coat, but also about your dog's paws, eyes, nose and teeth.
Unfortunately, despite good care and nutrition, your dog can get sick. At DigiDogs you will find detailed information on common dog diseases with information on symptoms and diagnoses, as well as possible therapies.
Poisonings are every dog owner's nightmare. To avoid them as much as possible, you should know which plants and foods as well as other harmless-looking objects from our everyday life can be dangerous for your dogs.