About us - DigiDogs
Thank you for your interest in DigiDogs.
With DigiDogs, we want to make it easy for you to keep your dog as healthy and as natural as possible. We know from our own experience that the search for the best advice, dog food, accessories, therapies and the right education can be very time-consuming and exhausting on the internet.
We all want the best for our dogs. But in the confusing labyrinth of products, guides and brands on the internet, it unfortunately is not easy to make out what is really the best for our dogs. This is exactly where DigiDogs comes in: We research very critically and independently with years of experience in keeping dogs in the most natural and healthy way.
Claudia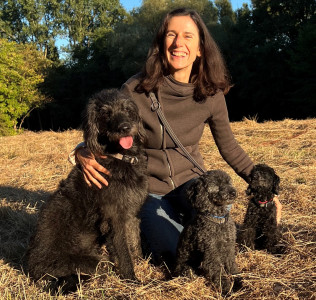 Ever since I was a little girl I was fascinated by dogs and nature. As a child, I spent many summers with my great aunt and uncle, who had a beautiful organic garden and shaped me very much in terms of a sustainable lifestyle and a deep love for dogs. Their shepherd dogs had passed guard dog tests with flying colours and guarded the property full of vigor. I could do anything with these "sharp shepherd dogs" and so the poor guys had to play with me "dog training". For me it was already clear at that time: I want a dog!

Different dog personalities came into our family, but one dog fate became my personal trigger for DigiDogs. After a very friendly and balanced Rottweiler-Shepherd called "Spike" followed bitch "Esta", half English Doberman and half Rottweiler. The 37kg sporty girl was a very social but watchful sportsman and died in my arms at the age of 13.

Lotte, my first very docile and friendly Labradoodle lady, we unfortunately had to put to sleep too early and traumatically for us at the young age of 4. With her first mysterious symptoms of illness, an odyssey to veterinarians and very frustrating internet surfing began. It was far too late that the very aggressive lymphatic cancer could be detected and I tortured my brain to find out if there could have been a trigger for the lymphatic cancer that I had not considered.
Perhaps Lotte had this life-threatening predisposition from birth, but her parents and siblings were healthy. I came across many possible pathogenic sources, from dog food to tick prevention, vaccinations to dangerous dog toys. I was shocked that it is possible in Germany to sell branded dog toys in dog shops, which may consist of harmful, even carcinogenic materials. I had learned that it is not easy for us dog owners to get good accessories and sound, independent recommendations on the natural and healthy keeping of our dogs.
With the founding of DigiDogs I can combine my passion for a natural and species-appropriate dog keeping and my professional know-how for digital websites. Meanwhile I am a certified nutritionist for dogs and cats according to Dr. Ziegler, have a lot of fun in the dog sport and my current dog Lilly is a poodle-labrador lady, who drove me to sheer despair with her wild- and stubbornness in her first year. Labradoodles can be so different!
Patrick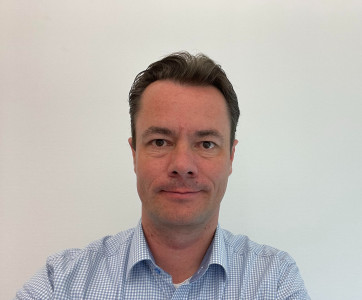 As a child, I was impressed by the independent and friendly nature of our cats. We first had the forest and meadow cat Tommy, but soon two purebred Balinese named Max and Moritz joined us. Later my mother brought the purebred kart house cat Dolly into our family, who gave us a litter of kittens. From this point of view I am more of a cat than a dog person and even today we have cats in the house every now and then.
Our family is all about animals: My wife is a veterinarian and holds rabbits with passion, for which my daughter has set up an Instagram account. My wife provides with competent passion not only our rabbits, but also cats and hedgehogs. She stands by us at DigiDogs with many good advice.
My older daughter rides and loves horses. My youngest daughter dreams of keeping a great dane, which doesn't seem to be a good idea (yet). She has many good ideas for DigiDogs.
With my many years of digital technology and founder experience, I ensure that DigiDogs is on a strong technical footing and is constantly evolving. DigiDogs aims to delight dog owners around the world and will be available in more and more languages. With DigiDogs, I can not only use my international digital know-how, but also work on a sustainable and meaningful project that helps dog owners to inform themselves independently about natural dog keeping.
Lilly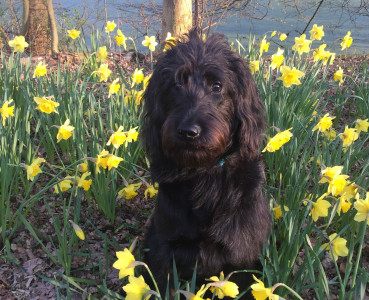 I am Lilly! However, my middle name is not "Princess Lillifee" but "Princess Rascal" and I can't imagine what that could be because of. Just because I always want to get my way? I am extremely curious about everything life has to offer. I am very greedy and I don't take any jokes with my food either. My hobbies include running, playing and especially swimming, and as a puppy I jumped headfirst into the lake. At that time Mistress was not enthusiastic, but now I tought her to swim together in the baltic sea. 
Patrick came to visit very often in my first months of life. Mistress and he were always sitting at the desk and staring at screens, talking about "DigiDogs"... Fortunately, I was able to distract them and make them play with me.
At the tender age of 5 months I ran into a wall in the garden in a wild game and ouch! after that my left hind leg hurt terribly. Boring times on the leash and scary times at veterenarians followed, because I had a torn ligament, which could only be operated much later. Fortunately, these times are over. 
Mistress is very proud of me when I find food dummies that she has hidden. This is my greatest joy and really very simple: Always following my nose! But she is even more proud because I have mastered the companion dog test so well, although strangers are suspicious to me since this ligament rupture operation. What do they want? I bark them away! Well, the more I learn and experience, the more relaxed and trustworthy I become.