Hydrangea is slightly toxic for dogs
Hydrangea

Hydrangeas are bushy shrubs that can grow up to 1-3 m in height. There are about 80 different varieties of hydrangea. They are very popular flowering shrubs in gardens, parks and on balconies and terraces, as well as houseplants, because of their often impressive flower umbels that bloom from June to September.
The flower umbels come in many different colours, so hydrangeas often bloom in white, light purple with white, blue, pink, lilac, light red, pink or violet. The home of hydrangeas is originally Japan and Korea.
Hydrangeas have green and pointed leaves that they shed in winter. Hydrangeas tolerate shade very well and need a lot of water, so their Latin name also translates as "water drinker".
All parts of the hydrangea are slightly poisonous to dogs, but especially the leaves and the flowers. Hydrangeas contain plant poisons (toxins) such as hydrangenol, hydrangin as well as saponines and hydrogen cyanide. The latter can cause irritation of the mucous membranes and severe gastrointestinal problems and attack the central nervous system.
However, the prognosis of hydrangea poisoning is usually good, as the dog would have to eat very large amounts of hydrangea to become severely poisoned. However, this always depends on the individual reaction of the dog and the concentration of the poison in the hydrangea in question.
Hydrangea is also known as: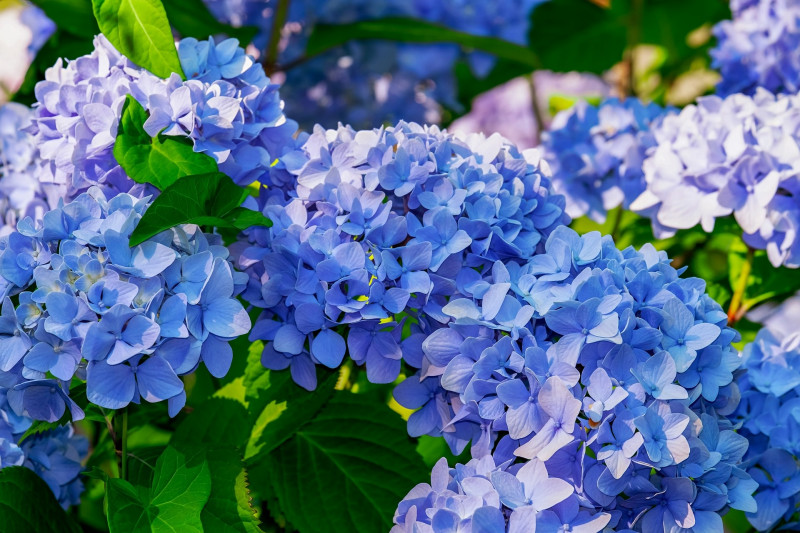 What should I do if my dog ate Hydrangea?
How toxic is Hydrangea?
| | |
| --- | --- |
| Toxicity: | (slightly toxic) |
| Toxic parts: | All parts of the hydrangea are slightly poisonous, but especially the leaves and flowers. |
| Toxic time: | - |
| Antidote: | Unknown |
POISONINGS REQUIRE QUICK REACTION:
If your dog shows symptoms of poisoning, it is always an emergency! Time is critical for your dog's life. You should immediately call your vet or the animal emergency services and make sure that a vet is on site and then go there immediately. For the treatment, it helps the vet a lot to know what your dog has ingested.
Occurrence Hydrangea
| | |
| --- | --- |
| Plant species: | flower, perennial |
| Occurrence: | Gardens, Indoor |
| Areas: | Asia, Europe, Central Europe |
| Flowering time: | summer, autumn |
| Fruit ripening: | - |
Symptoms
Symptoms of hydrangea poisoning in dogs may include:
blood circulation complaints
irritation of the mucous membranes
shortness of breath
abdominal pain, nausea, increased salivation
diarrhoea, sometimes bloody
cramps, tremors
Treatment
Whereas in the case of acute poisoning one should often try to remove the poison from the body, if necessary by inducing vomiting, this is not advisable in the case of hydrangea poisoning. This is because the hydrogen cyanide and the saponines and toxins can strongly irritate the mucous membranes, resulting in respiratory distress.
In the case of hydrangea poisoning, the vet can cool and treat irritated areas and give drinks or food containing calcium. The administration of painkillers and monitoring of heart and kidney function are other possible therapies.
Further poisonous plants from A to Z